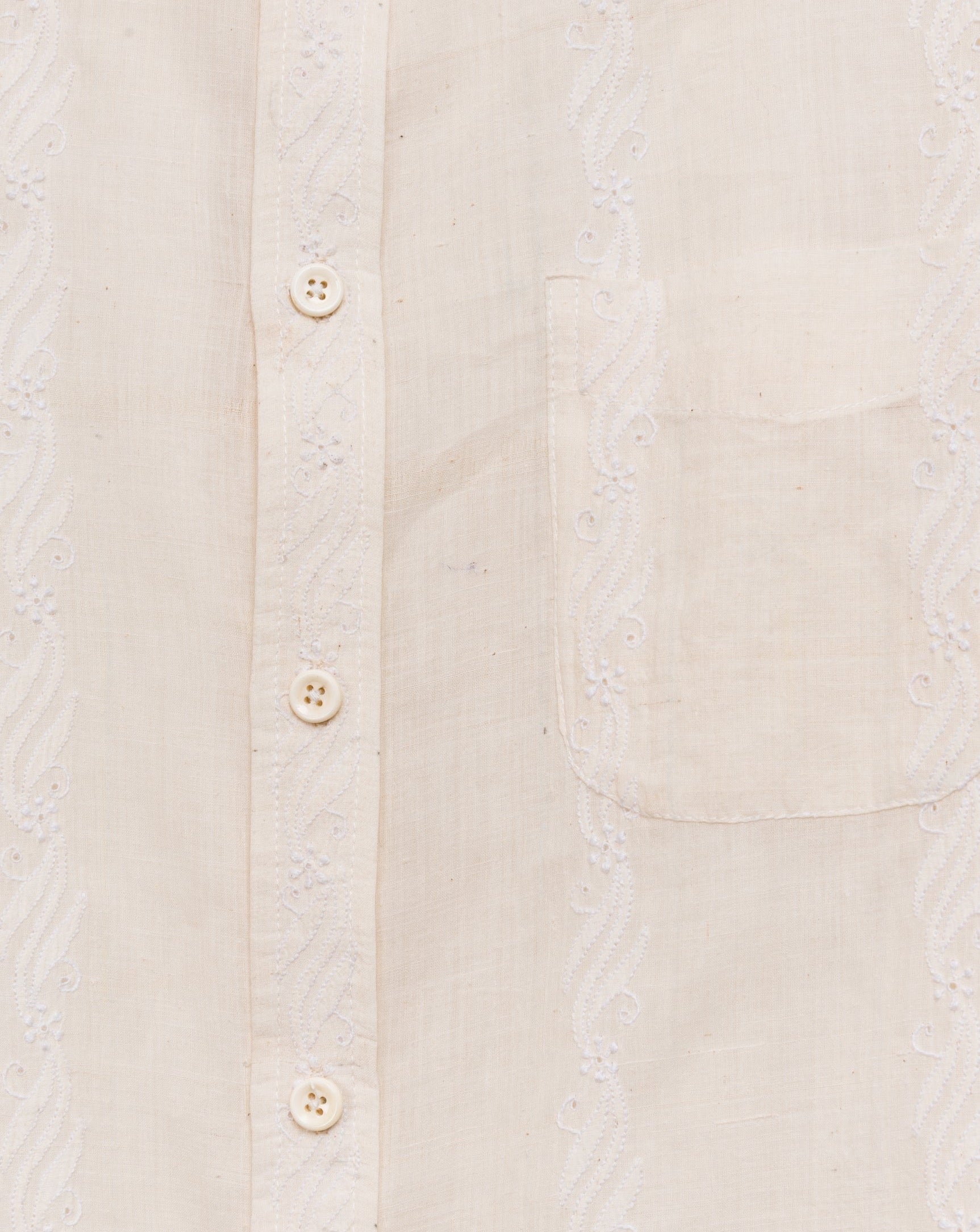 Kabir Embroidered Shirt
---
DETAILS
Our Kabir (meaning, The Great) shirt is a classic button up shirt made for everyday wear. This special edition shirt features intricate embroidery done entirely by hand using a special art form called Chikankari Embroidery. Our Chikankar artisans live in Lucknow, a specialty of that region. It takes a Chikankar a decade to learn and train and about 15 days to finish a panel of work on a single item. Once embroidered, the panels are sent to us and the item is then cut and sewn. Due to its special nature, please allow four weeks for delivery.
A wardrobe staple, its handwoven and naturally dyed fabric lends itself to a relaxed look and feel. We used a selvedge edge finish throughout which enhances its uniqueness and durability. 

With a standard fit, an updated spread collar and hand-carved buttons. We used a selvedge edge finish throughout which enhances its uniqueness and durability. For selvedge lovers, this shirt is a real treat. From the outside, the shirt looks the same, but we re-engineered its interior to enhance the use of a selvedge finish throughout. Cleverly designed, the back pleat now highlights the selvedge as well as the inner cuff panels, button placket and side seam gussets. The subtle selvedge use and considered bone button hardware enhances the overall style.
MATERIALS + PROCESS
Masterfully handwoven on a traditional foot pedal loom that creates a unique and unmatched texture. Its hand-spun yarns are naturally dyed by hand at a family-run workshop using natural minerals and plants.
Produced using sustainable practices that help improve the livelihoods and welfare of our artisan community makers and reduce the impact on the environment.
SPECIFICATIONS
- 100% Handwoven cotton
- Standard fit
- Single rounded chest pocket - Spread collar
- Round bottom hem with side slit gusset detail
- Real bone buttons
- Single needle stitching with hand rolled seams
- Selvedge edge of fabric utilized on center back seam, inside front plackets, and side gussets
- Locker loops on inset into back yoke seam
- Hand finished and closed seams
This special piece is made to order. Allow approximately 4 weeks to receive. It is advisable to carefully wash this garment separately by hand and line dry in indirect sunlight to preserve the integrity of the garment.